MILTON, Mass. – Wednesday, November 20 marked the return of Pay It Forward Day to the Curry College Community. Members of the Curry College Student-Athlete Advisory Committee (SAAC) comprised of athletes from teams all across campus continued the November tradition for the fifth straight year. "Pay It Forward" Day is a simple concept of spreading some goodwill and smiles across campus by doing random acts of kindness and urging people to do the same.
In the morning, student-athletes served free Dunkin Donuts coffee, hot chocolate, and munchkins in the Hafer Academic Building to the delight of many faculty, staff, and students. The message was simple: have a great day and do something nice for someone else today. If you were lucky, you also got to ride on the Pay It Forward Day shuttle, which picked students up across campus and brought you to class, breakfast, or anywhere you needed to go on campus.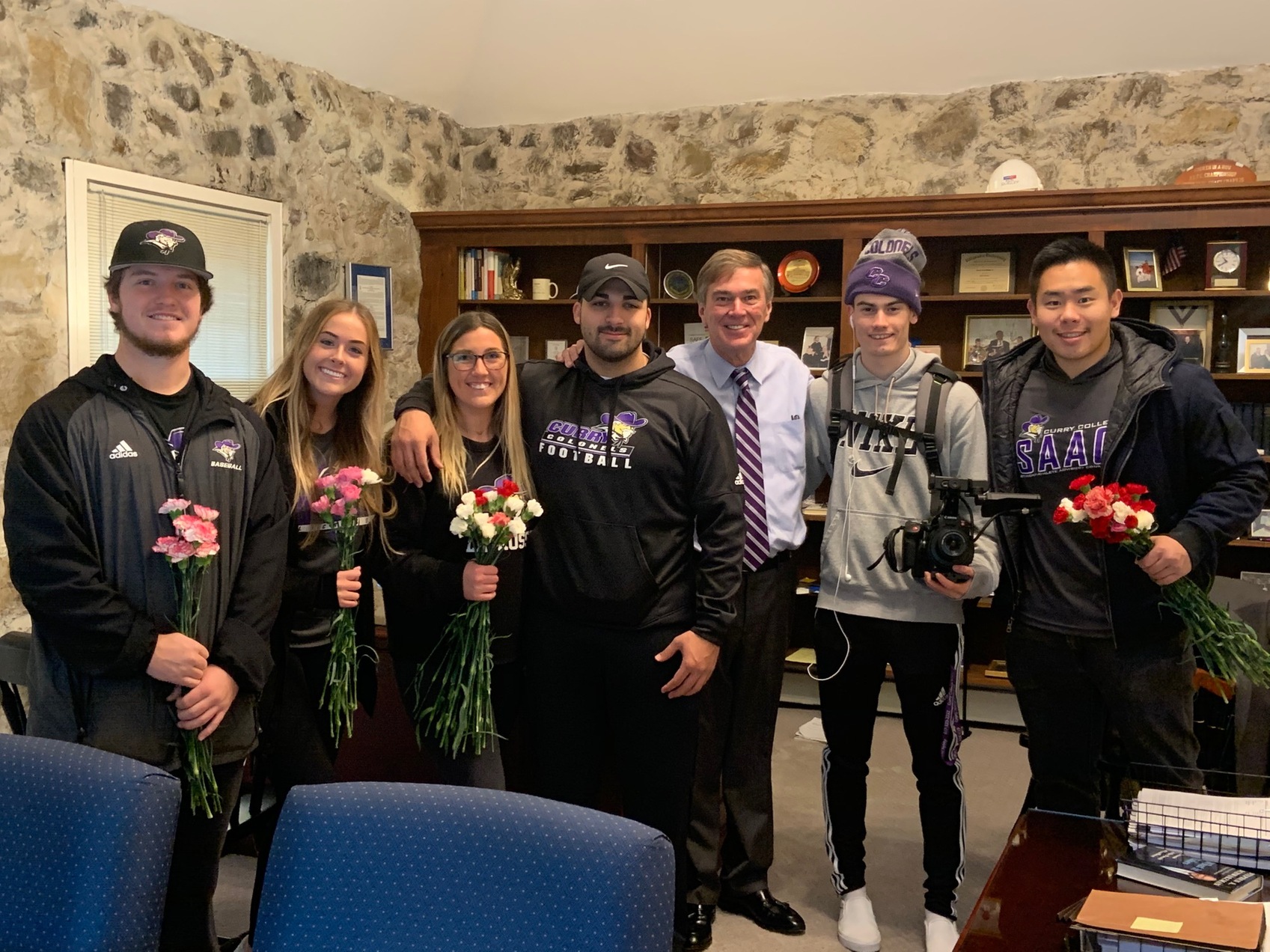 (SAAC Members with President Quigley)
Throughout the day, SAAC members handed out cards encouraging everyone to do something nice for someone else. The back of the cards gave suggestions on random acts of kindness people could do around campus. SAAC members also could be seen handing out individual Thank You and encouragement cards to members of the Curry community. Single carnations were also handed out to faculty and staff around campus thanking them for their commitment and service to the Curry College community
Curry SAAC member Leona Stevens (Women's Lacrosse) said, "We look forward to Pay It Forward Day every year. People are so surprised and touched by the simple acts we do; it makes you feel really good to brighten someone's day.
(SAAC Members in the Pay it Forward Shuttle)
Later that afternoon, SAAC held a Curry Athletics Yard Sale in Miller Field House. Old uniforms and Curry athletics apparel were sold to help raise funds for future SAAC events and initiatives. Over $500 was raised and the committee is looking to host another sale during NCAA DIII week this April.
The Curry College Student-Athlete Advisory Committee is headed by Men's Soccer Coach Peter Mendel and includes team members from all varsity sports on campus.
(Curry Athletics Yard Sale)
For the latest on Curry Athletics, follow the Colonels via social media on Facebook, Twitter, Instagram, and YouTube.